Just Released - SAVE 20% With This Introductory Offer of our Exclusive eBook Edition of Choose the Happiness Habit!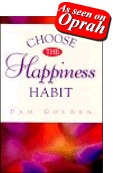 If you want to increase your happiness and get more out of life, it is as simple as learning the proven habits and traits of happy people. Pam Golden shows us how in Choose the Happiness Habit. After reading it youíll know why itís been featured on Oprah! Download and read today.

Avg. Customer Rating:

(paperback edition)

Click here for a preview

Order Now and Pay Just $11.96 - 20% OFF

Hereís what one reader said: "So many self-help books do nothing but discuss general concepts and theories. This book gave me the tools I need to take specific steps toward a happier life. I'm not going to tell you that the sun came out, the birds started singing and I never had another problem again - but I will say that before I read this book, I never considered myself a very happy person. Now I do."
Recommended
Resources

Jim Rohn



Think & Grow Rich

MP3 Motivators

The Science of Getting Rich

Thought for the Day


Emmet Fox

Conquer Fear!
Bob Proctor

Denis Waitley

Change Your Thinking

Sylvia's Love


Other Links

Click for audio help