Bob Proctor and The Secret Key to Massive Success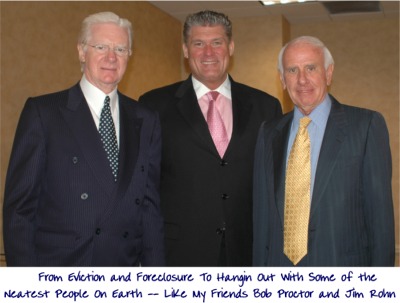 Two years before I was introduced to Bob Proctorís teaching my family and I were evicted from our home with just 48 hours to find another place to live. The next year the last automobile we had was repossessed and I earned just $14,027 for the entire year, qualifying my family of five below the U.S. Poverty level. You can see my pitiful federal tax return here.

Barely a year after studying and applying Bobís strategies I was earning more than that in a month. It was just a couple of years before I easily earned that in a week. Now itís not uncommon for me to earn that and more in a matter of a few minutes!

What was the secret to my great turnaround?

A handful of ages-old principles that Bob taught me how to use and leverage. And the chief principle was from a book that Bob has read every day for the past 40 years: Think and Grow Rich. The principle? "You become what your think about." It's not a coincidence that it's also the primary principle of the classic book As A Man Thinketh.

It was a principle that Bob learned from Napoleon Hill (author of Think and Grow Rich) and later it was reinforced by one of Bobís mentors, Earl Nightingale, author of The Strangest Secret, which also taught the same principle.

Several years after the big change in my life I had the opportunity to start working personally with Bob Proctor and my life hasnít been the same since.

Here are some of the incredible programs that weíve produced with Bob or that we highly recommend for your personal growth and development...
---
"

Have

Y

ou

E

ver

W

ondered

W

hy

M

any

P

eople

W

ork

V

ery

H

ard

A

nd

A

re

B

roke

W

hile

A F

ew

Seem To W

ork

E

ffortlessly

A

nd

E

arn

M

illions?

The Answer Is Part of The Science of Getting Rich"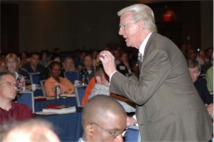 "There is a Science of Getting Rich. Scientific Laws that govern whether you are wealthy or poor and they are just as exact as those that govern the Universe. Learn and use them and you will attract money in abundance just as certainly as the force of gravity holds you to the earth.Ē
This excerpt from The Science of Getting Rich caused me to pull off of the side of the road in 1998 and break down in tears. After years of struggling it all finally made sense to me. There must, there in fact was, a science behind all of the success that I saw around me and was so desperate to achieve.
Get the entire formula on this incredible DVD of The Science of Getting Rich...
---
"The Real Truth About Procrastination and How To Replace It With A Laser Focus That Will Have You Cutting Down Your Obstacles Like They Were Butter"
All world-class achievers have it. Those with the highest of academic credentials --- and high-school dropouts. Those who have highly attractive physical appearances and those who give ugly a new meaning. Those who have dramatic achievements at an early age and those who enjoy super-success late in life after years of failure and struggle.
What is it? They all have the personal inner power to seemingly "command" themselves to achieve anything they want (and it often appears it was done effortlessly).
In fact, the power is often so strong that people in their presence perceive an "aura" around such a person.
Let personal development legends Bob Proctor and Jim Rohn teach you the secret to claim your power now....
---
"The Astonishingly Easy Secrets to Using What You Already Have To Achieve Anything You Want. Yes, You Were Born Rich"
"Every human being has been 'Born Rich.' It's just that most people are temporarily a little short of money!" With those words Bob Proctor begins his International best-selling book You Were Born Rich."
Some of the key principles of You Were Born Rich:
The Comfort Zone - why you must break out of it and how to do it

How to use the Law of Vibration & Attraction to make succeeding easy


The keys to living on a higher level of conscious awareness




Using the Vacuum Law of Prosperity to bring goodness into your life
See the first and only tele-seminar production of Bob Proctor's landmark You Were Born Rich...
---