Just Released - SAVE 21% With This Introductory Offer of our Exclusive eBook Edition of Jeff Keller's Attitude is Everything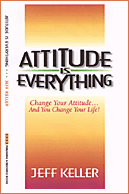 This is a very easy-to-read book that packs a powerful punch. Jeff Keller has skipped over the fluff and delivers some very practical and insightful how-to. It will change your attitude and that will change your life! The book consists of 12 Lessons and has already sold over 120,000 copies in paperback.

Avg. Customer Rating:
(paperback edition)

Click here for a preview

Order Now and Pay Just $9.44 - 21% OFF

"Attitude is Everything, has made the greatest impact on my life. Your words have helped me to change from a negative, cynical, victim mentality, 'woe is me' lifestyle into a new person. I have lost count of the number of times I have read it. I have decided to start my own business. This, I owe all to your book. I have more energy, more control over my life and I'm infinitely happier. Thank you for your life-changing book."

-

Peter Irlam
Recommended
Resources

Jim Rohn



Think & Grow Rich

MP3 Motivators

The Science of Getting Rich

Thought of the Day


Emmet Fox

Conquer Fear!
Bob Proctor

Denis Waitley

Earl Nightingale

Sylvia's Love


Other Links

Click for audio help