If You Read Think and Grow Rich and
You're Still Not Wealthy, What Are You Waiting For?
(And
I

f You Haven't Read the Number One Success Book of All Time,
That Goes Double)

"Who else wants to turn the 70-year-old secrets of Think and Grow Rich into so much cash you'll think you've got your own personal, cash-dispensing ATM machine?"


From: Vic Johnson, Melrose, Florida
Date: Monday, 6:57 PM

Dear Friend,
Do you feel like I did when I finished reading Think and Grow Rich?
I was so excited by the incredible principles that Napoleon Hill shared that I thought I was going to crawl out of my skin.

I needed something big to happen in my life. And I needed it in a bad way. I was in the middle of the darkest days of my life.

One of those days saw my family and I evicted from our home. On another day we lost the last automobile we had and for more than a year I drove a 12-year-old bomb I borrowed from a friend.

There were other days when the phone and electric were cut off. Actually, the days the phone was off weren't totally bad because it meant I didn't have to listen to the bill collectors and their nasty threats.

I was so desperate for a solution and so ready for a change and I instinctively knew as I read those pages that I had found the answers I was looking for.
My excitement grew with each eye-opening chapter. I raced through the book as if when I reached the end I'd find a check for $1 million. Instead, when I reached the last page somewhat bewildered, I pondered the really big question of...
W

hat do I do next?

There were so many things that jumped off the pages that I thought I needed to change in my life that I didn't know where to begin.

Were some more important than the others? How should I prioritize them?

How would I know if I was on the right track?

And how would I conquer that dream-killer that had been a problem so many times in my life --- the numbing fear that froze me from taking action?

Before I get too far into the saga, it's probably helpful to stop right now and blow a great big hole in one of the biggest lies you've ever been told. It's the same lie I heard and believed, and it almost killed me because…
I worked as hard as anyone I've ever known, and I was still flat broke (and if that's you, the only thing you have to look forward to is an early grave
)
In fact, I venture to say that I've never met anyone who has ever worked harder than me --- sometimes 18 hours a day, seven days a week. After all, like you, I'd always heard that an important part of the wealth formula was working hard. Right?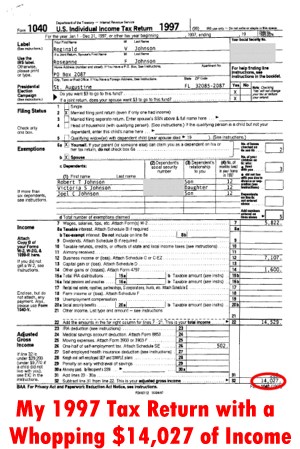 Where did that get me? In 1997, one of my hardest working years, I earned less than $15,000 and qualified for a federal poverty program. Take a look at my pitiful 1997 tax return that's on this page. That's about the best testimony I can give that the biggest thing working hard will get you is an early grave.

Now, think about this: the name of Napoleon's book is not Work Hard and Get Rich.

In fact, he's crystal clear about the whole idea of working hard to achieve wealth: "Riches, when they come in huge quantities, are never the result of HARD work!"
I once heard a very enlightening exchange between Bob Proctor and a person sitting in the audience. As the audience member was describing himself as "hard working," Bob interrupted him and asked him why he wanted to be "hard working," because creating wealth has nothing at all to do with working hard. The audience member grew speechless as it dawned on him what Bob was talking about.
Now, don't get me wrong. I'm not a lazy person -- and I don't know any real successful people who are. But since I've gotten my head screwed on straight, it's not my goal to work harder. To the contrary, my goal now is to create MORE with LESS. More success with less effort.

When I changed my "Personal Wealth Formula" it was like I unleashed Niagara Falls flowing with cash.
Stop and and think about it. Whether they know it or not, everyone (you included) already has a personal wealth formula. Just because it doesn't produce massive wealth doesn't mean it's not a wealth formula -- it just means it's not a very effective wealth formula.
Some people's personal wealth formula consists of clocking in and clocking out of a 40-50 hour a week job. They sell their time at wholesale to a company that turns around and sells it at retail.
Other people's formula consists of selling their life away in a similar hourly fashion. We call them doctors, dentists, lawyers, accountants, etc. While they may earn more than the typical hourly wage earner, they can't achieve true wealth solely from selling their hours. Because like all of us, they have only so many hours in a day.
For me, my personal wealth formula in 1997 was disastrous. It seemed the harder I worked the less I made.
When I stopped "working hard" and started "thinking and creating," and when I made just a few changes to my personal wealth formula, I started making money so fast and so easily it was like turning a simple household faucet on --- money started gushing out everywhere.

Here's what's happened since I changed my "Personal Wealth Formula" by using the principles from Think and Grow Rich:
In 1997 I qualified at the U.S. Federal Poverty level, earning just under $15,000 for the year (see tax return above). Less than 10 years later I was regularly earning that amount on many days! In fact, I've earned that in just a few minutes!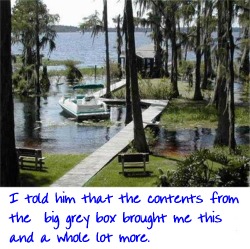 In 1996 I was evicted from my home. Just ten years later I owned expensive homes at the beach and on a popular lake (the picture on this page is from the second story deck at the lake --- you wouldn't believe the ospreys, egrets, otters, cardinals and other wildlife that we encounter every day we're there).
And even though I live in a paradise, I vacation 5-6 times a year in some of the hottest spots in the world including Aspen, Jackson Hole, Paris, London, Rome, etc. (As a matter of fact, I wrote most of this letter on a plane back from a six-day Valentine's holiday with my Sweetheart at the Rusty Parrott Lodge in Jackson Hole).

Today I have a popular TV show, a best selling book and over 300,000 subscribers from virtually every country in the world. In other words, I've truly learned the secrets of Think and Grow Rich.
But here's the biggest secret I learned:

I didn't have to make massive changes to the Personal Wealth Formula I had in 1997 in order to achieve what I have today. Now there were a handful of critical changes (and they were critical), but it's not like I had to change everything.
And I've also learned, from the many thousands of people I've worked with in one way or another, that most people are in the same boat. I've worked with people that in some cases only had to make one change to their Personal Wealth Formula and they tripled their income almost overnight.
Stop and think about it. You've probably heard the analogy that "water boils at 212 degrees." At 211 degrees it's just hot water. But at 212 degrees it turns into steam. And steam can power a turbine that produces electricity for thousands of homes and businesses. All of that incredible power comes from just a one-degree difference.
Where is your Personal Wealth Formula today? Maybe it's 175, 201, even 211 degrees.
Regardless of where you're at, I assure you that anyone can crank their Personal Wealth Formula up to 212 degrees if they're willing to give it a try.
The only thing you will need to give this program a try is an open mind. Open enough to take a chance on yourself and the material you'll learn (actually, you don't even need to take a chance because the program is backed by my personal guarantee -- so you've got nothing to lose. More about that in a minute).
So here's what it's all about:
Six years ago I started sharing the resources and methods I used to go from poverty to prosperity. In that time we've helped thousands of people around the world double and triple their income; shed 50, 60, even 100 pounds and more; start their own successful businesses and much, much more.

In doing that, I depended very heavily on the principles I learned in Think and Grow Rich. But I also realized that they could become even more powerful, and put into play even more quickly, if they were presented in a "workshop" manner.
So I did something Napoleon would be proud of:

(1) I decided to CONCEIVE of a very special program built only on the principles of Think and Grow Rich,
(2) Then I began to BELIEVE that I could make it work,
(3) And that led me to ACHIEVE something very special…
In the more than seventy years since Napoleon Hill gave us his magnificent work, there has never been a program
like this

to put the words of

his

book into action…

Until now.

Introducing: The TGR Seminar, a content-stuffed, eight-

session

recorded

tele-seminar that will have you taking massive action to success in record time

!

"I have been #1 in sales since we began this session."
– Jacqueline Kossoff, Wilmington, DE

Because it was so helpful in my life, I've been offering an eBook version of the original Think and Grow Rich since the very early days of our first website. During that time I've heard back from a lot of people who read the book as well as continuing to study it myself.

One day it occurred to me that, like a lot of things, it would be helpful if there was someone who could walk you step by step through the book, providing coaching points and mentoring along the way.

So I sent the book off to a highly regarded professional program designer with specific instructions about what I wanted. Several months later back came an extensive workbook and an incredible teaching module that really brings to life Napoleon's work.

Then we conducted an eight-week live tele-seminar featuring this teaching and the feedback and experience of those who participated in the program. To say this program was powerful would be an understatement. Read the testimonials below of the real results our participants achieved:

one went to #1 in sales,

one quit smoking after 34 years,

another found her major life purpose,

yet another overcame procrastination and fear, while

one manifested a desperately needed new bedroom.
Now we've incorporated the actual live recordings together with a boatload of other material to create a powerful home study program.
Here are just a few of the powerful "secrets" you'll take away from this ground-breaking work:
Here's just a taste of what we cover:
CD 1: THE "SECRET" POWER YOU REALLY POSSESS

CD 2: IMPROVING SELF CONFIDENCE AND ACQUIRING KNOWLEDGE

CD 3: FAILURE AND OPPORTUNITY EXERCISES

CD 4: DECISION MAKING AND OVERCOMING PROCRASTINATION

CD 5: PERSISTENCE / INTRODUCTION TO THE MASTER MIND

CD 6: THE RECIPE FOR PURE GENIUS

CD 7: YOUR BRAIN AND THE SIXTH SENSE

CD 8: THE SEVENTH BASIC EVIL AND HOW TO DEFEAT IT

Order by and also collect these bonuses:

Early Bird Bonus Gift #1 ($29 Value) Special Affirmations CD. Napoleon Hill wrote that "It is a well-known fact that one comes, finally, to BELIEVE whatever one repeats to one's self, whether the statement be true or false." And he goes on to point out the importance of "affirmation of orders." This specially pressed Affirmations Audio CD has already drawn praise from users across the globe. It's FREE when you order today.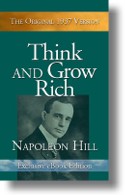 Early Bird Bonus Gift #2 (Sells everyday for $13.95) The Original 1937 Version of Think and Grow Rich. This first-quality special printed edition of Napoleon's original work will inspire you as it has more than 30 million readers since it's introduction 70 years ago. When it was introduced to the world in 1937 the leading entrepreneurs of the day showered it with immense praise. William Wrigley (of the chewing gum empire) claimed to be Napoleon Hill's first student and gave his principles credit for all of his success. And today's entrepreneurs are no exception. From Truett Cathy, Founder and Chairman of Chick-fil-A, to cookie king Wally "Famous" Amos, Think and Grow Rich continues to influence those who seek massive success.

Early Bird Bonus Gift #3 (Sells everyday for $27). The New MasterMind. Think and Grow Rich introduced millions of people to the power that Andrew Carnegie and others found through the use of the Master Mind. The New MasterMind™ is a specai e-report that has been compiled from the real-life experience and successful results of Dr. Philip Humbert—a nationally acclaimed and successful business and personal coach, speaker and writer. It gives you a proven, winning formula for creating your own Mastermind group. It's yours when your order now!

Looking for an excuse not to order? Here's a few from Napoleon...
Near the end of Think and Grow Rich, Napoleon lists what he named "57 Famous Alibis by Old Man IF." And he writes that "People who do not succeed have one distinguishing trait in common. They know all the reasons for failure, and have what they believe to be air-tight alibis to explain away their own lack of achievement.

"Some of these alibis are clever, and a few of them are justifiable by the facts. But alibis cannot be used for money. The world wants to know only one thing—HAVE YOU ACHIEVED SUCCESS?"

I took part of that list and created a few of my own alibis you could offer as excuses for not turbo-charging your life with The TGR Seminar:

IF I didn't have a wife and family . . .
IF I had the money . . .
IF I had the time…
IF conditions around me were only different . . .
IF I could live my life over again . . .
IF things were better at work…
IF I'd known about this last week (last month, last year)
IF I could wait until next week (next month, next year)
IF I were only younger . . . (or older)
IF I had the talent that some people have . . .
IF I didn't have to keep house and look after the children . . .
IF I had the personality of some people . . .
IF I could only get out of debt . . .
IF I hadn't failed in some other programs I've done . . .
IF I did not have to work so hard . . . (go read the section above again)
IF I hadn't lost my money . . .
IF * * * and this is the greatest of them all * * * I had the courage to see myself as I really am, I would find out what is wrong with me, and correct it, then I might have a chance to profit by my mistakes and learn something from the experience of others, for I know that there is something WRONG with me, or I would now be where I WOULD HAVE BEEN IF I had spent more time analyzing my weaknesses, and less time building alibis to cover them."
The fact is, when you're looking for an excuse, then ANY excuse will do --- just pick one.
So the next step is up to you. I've shown you the proof this stuff works and I've made it a no-lose situation for you with my "Full Satisfaction Guarantee or You Don't Pay."

You and I both know that if you've read this far, you're seriously interested in changing your personal wealth formula. All that's left to do now is to TAKE ACTION.

Separate yourself from the masses who will never know what it's like to breathe the rarified air of those who achieve wealth and success. Don't be like those who will do most everything it takes to be successful except acting on a great idea. Be different. ACT NOW!

Wishing you all the success you can imagine,



Vic Johnson

P.S. You've no doubt heard it before: if you continue to do what you've always done, you're going to continue to get what you've always gotten. What I'm offering you is a chance to learn first-hand how to apply the powerful secrets of Think and Grow Rich to achieve the wealth and lifestyle you've always wanted. Change what you're doing and you'll change what you get – take the first step right now.



Don't have a credit card? Here are two options for payment:
1. Click on the order button above so you can determine shipping costs.
2. Send a check (U.S. Only) or money order in U.S. Dollars to:
No Dream Too Big LLC
PO Box 1220
Melrose, FL 32666 USA